Hasselblad Campaign 2013 and Tips on how to work Under Water
Perhaps you remember that I visited the neck of my woods Copenhagen back in January? I did so because I was booked to shoot the new World Campaign for Hasselblad and I spent 14 lovely, but busy days working and seeing my family and friends.
Since June 2012 under water shoots have become my metier. Not saying that I only work in and under water, but for some reason many movies, music videos, commercials, fashion and beauty shoots right now are done in or especially under water and for other reasons I don't know I have become a specialist in that field.
I've been asked by both models, actors, photographers, DPs and journalists what the trick is. Here are some thoughts according to my experience:
It goes without saying that you have to be comfortable in water when doing under water work. Next, figure out what type of shoot you are doing. Is it beauty, fashion or perhaps you have fight scenes under water. Every bit of information gives you leads to how to act or pose under water. For instance, is it a beauty or fashion shoot, I often pretend I'm dancing under water. Soft hands, pointy toes, and slow, graceful movements are key and make the clothes float beautifully around the body. If it is an action packed movie/scene you probably have more freedom to look like you are struggling, which usually is the fact in all shoots since huge gowns weigh a ton under water and they pull you down like nobody's business.
To hit your spot (place to be when the scene starts) and catching the light under water can also be a challenge. So before going down into 'the abyss' I always 'over oxygize' my blood. I don't even think that is a word, but the point is: I take huge and long breaths for a while to make sure I have lots of oxygen in my blood for a while. And then, I actually don't need to breath as often as my body thinks. The breath is a reflex. When trained and focused, you can delay that. But obviously this is not something to jeopardize with. Know your limits and always honor your body.
Another thing to be cautious of when working in chlorine water; After some time you will experience that you vision gets blurry when you get out of the water. It is totally normal. I have tried it many times. Make sure you take a break when you feel it. One time, when I was still inexperienced I kept shooting under water and I had a blurry tunnel vision until the next morning and couldn't even drive my own car back from location.
I could go on and on about dos and don'ts, but will leave you alone now. Here are the final official images of the campaign and some behind the scene shots as well. If you would like to see the official 'the making of' video please click on this link
Photographer: Henrik Weis Sørensen / Makeup: Gabriella Tipsa / Location: Ledreborg Castle / Couture: Trash Couture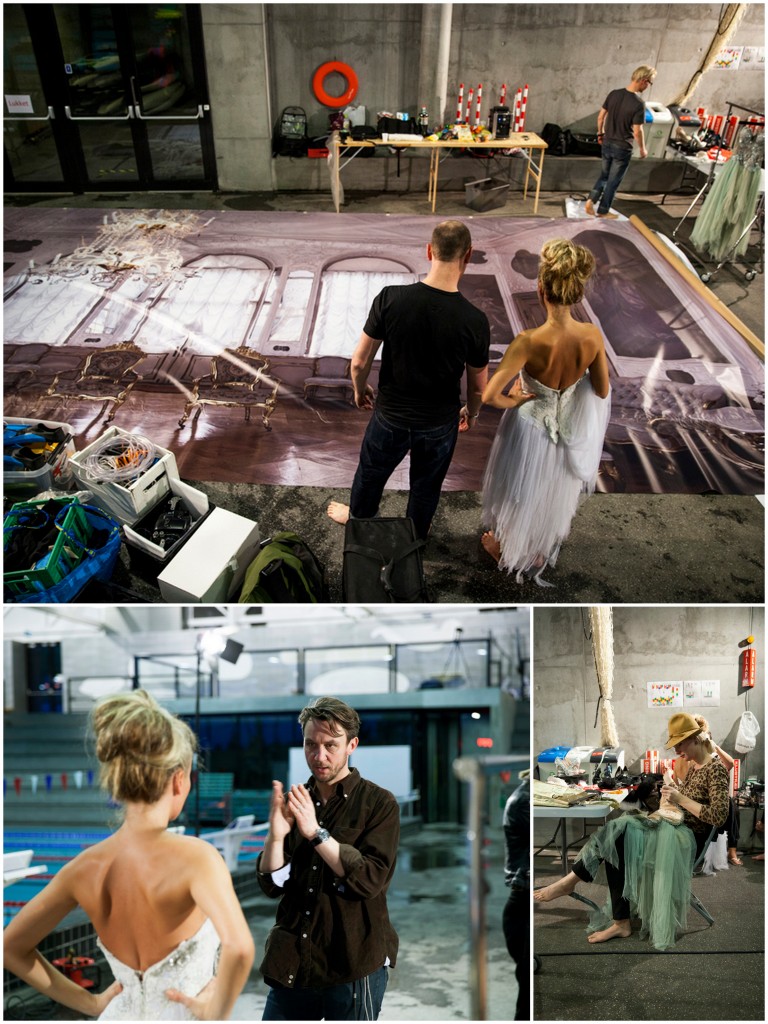 checking out the crazy huge print of our Danish Queen's castle before getting into the water. Plus the couture designer and CEO Nanna Löwe Clausen is making last adjustments on one of the couture dresses I'm wearing.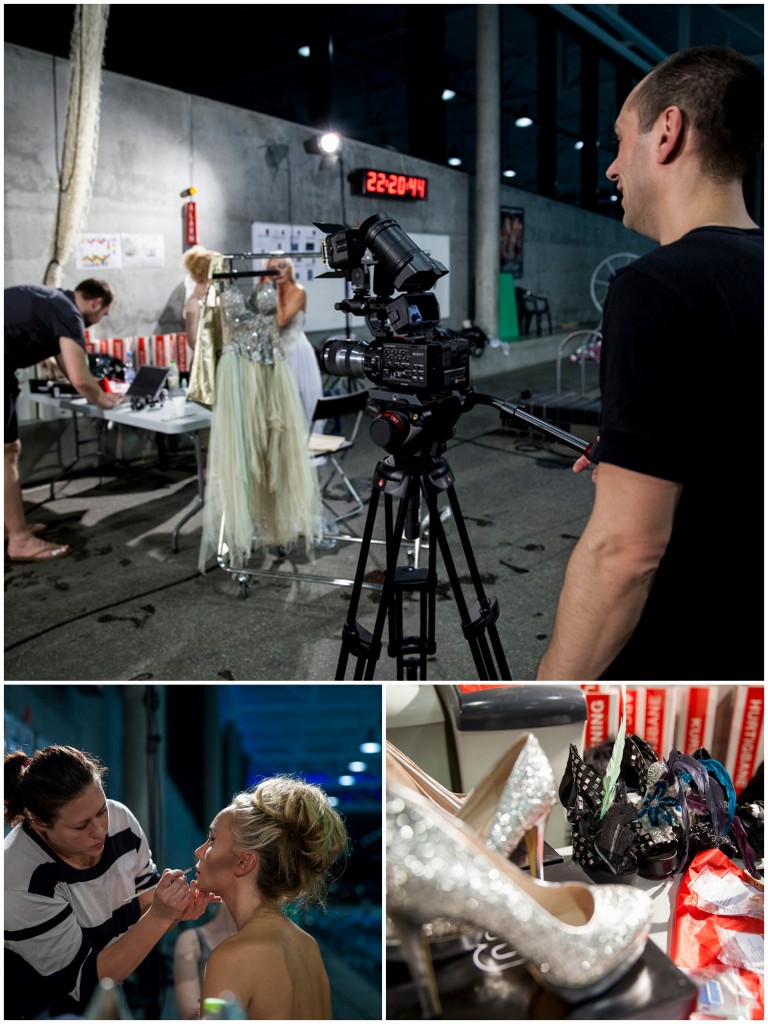 Make up has to be almost 'Drag Queen status' since the water takes away so much. Under water makeup makes you look like a clown in real life, but under water it looks good. MUA Gabriella knows the fine nuances.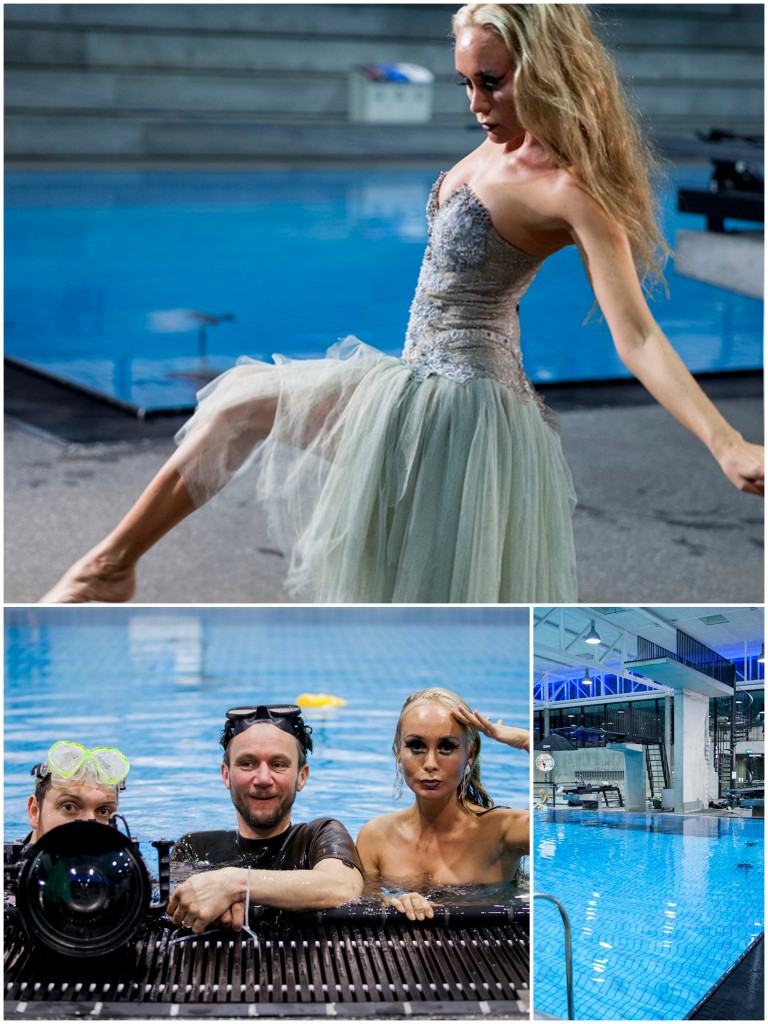 Showing the team what movements I'm thinking of doing. And Group photo in the pool halfway through the shoot.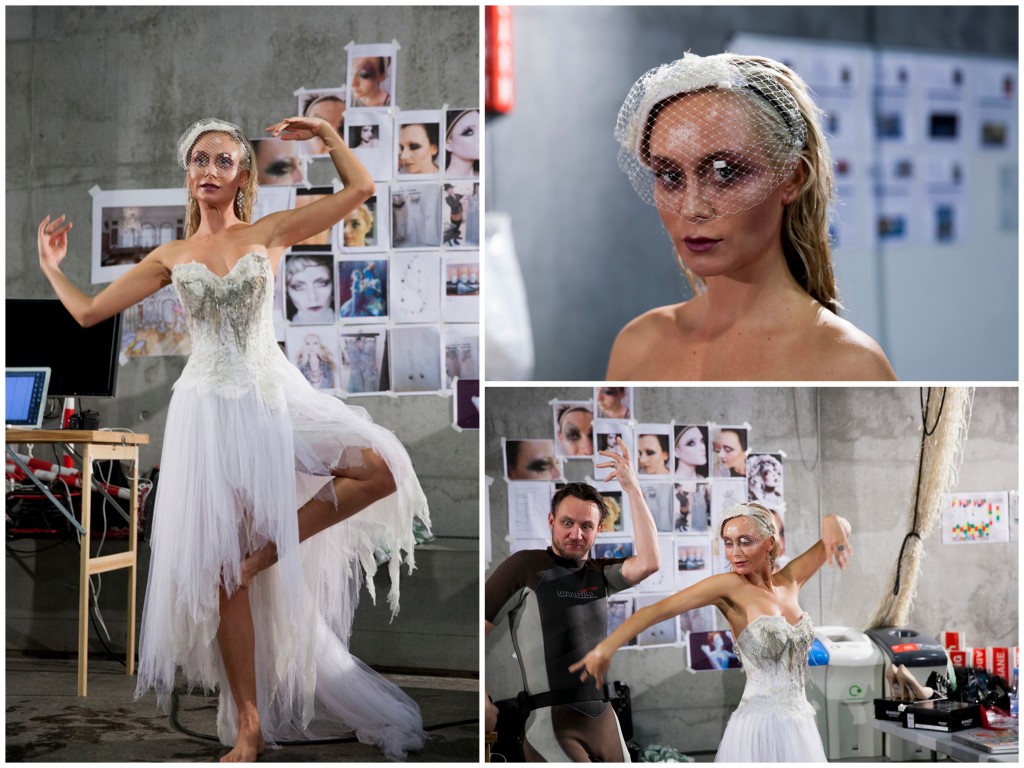 Next look and photographer Henrik and I are getting goofy in front of the camera. PS – the hardest part of the shoot was to keep on this little white hat with the veil. 😉
GemGem