Posted:
October 2nd, 2011 |
Author:
Kristina Korsholm
|
Filed under:
Uncategorized
|
Tags:
Beverly Hills
,
Douek & Jones
,
Fashion
,
Jonathan Wareham
,
Kat Lieberkind
,
Kristina Korsholm
,
Nina Morgan-Jones
,
Phillip Benhamou
,
rendez-vouz
,
Romp LOndon
|
No Comments »
Weekend is here, but to me that doesn't make a huge difference. Sometimes I think my life is a bit opposite 'the norm' meaning that I usually work during weekends and I go out (and work) during the other weekdays. Like last Tuesday where I went to the opening of the new club Rendez-Vous in Beverly Hills.
Grand openings are usually fun since everybody is dressing to the nines and an electricity of curiosity and excitement fills the venue. Last Tuesday was no different. However, I loved it even more because of the cute little courtyard in the back of the actual club where trees were decorated with lights like were we in Saint Tropez or in one of the more intimate hotspots in Ibiza. DJ Cobra was spinning (#DanceLikeNoTomorrow) and the ever so adorable French Phillip Benhamou was hosting the party. Yes, perhaps the setting sounds a little on the Euro side, but nevertheless exactly what I needed that night and I will most likely go again very soon.
So yesterday I shot the video and stills for the invite to my book party, which will happen here in Beverly Hills on November 9th. Yes, please save the date! I am doing the party together with the super beautiful brand Douek & Jones. You might recall that I have spoken about Romp London, which is designed by London born Nina Morgan Jones. well, Nina has now taken her creations to a more sophisticated and luxurious level. Nina has teamed up with New Yorker Joseph Douek and together they are sculpturing a women's wear collection including clothing, boots and shoes consisting of the finest natural products such as shearlings, leathers, suedes, cashmeres and silks, all sourced Internationally. I was playing around in the collection while shooting the video and I'm super excited about the designs. Every piece is truly unique.
I can't wait to share the edited video with you – and of course my book. So please stay tuned for updates coming up very soon

DP: Jonathan Wareham / MUA: Kat Lieberkind / Fashion Douek&Jones /Literature: NYC HEAD OVER HIGH HEELS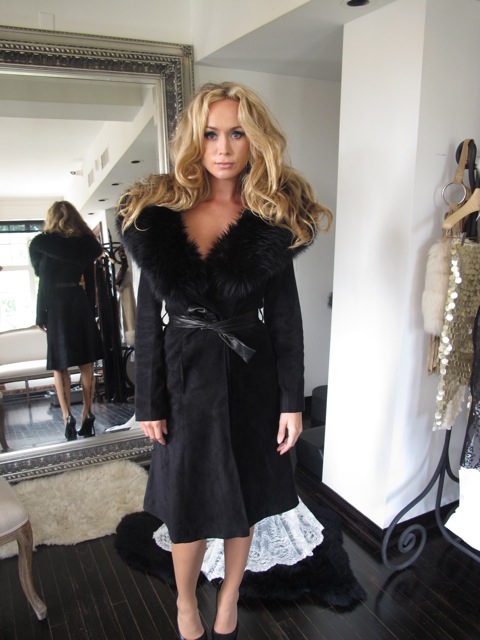 Please pay attention to the backside of my stockings. They are from Agent Provocateur and say 'whip me', 'eat me', 'bite me' all the way up the leg. #sexy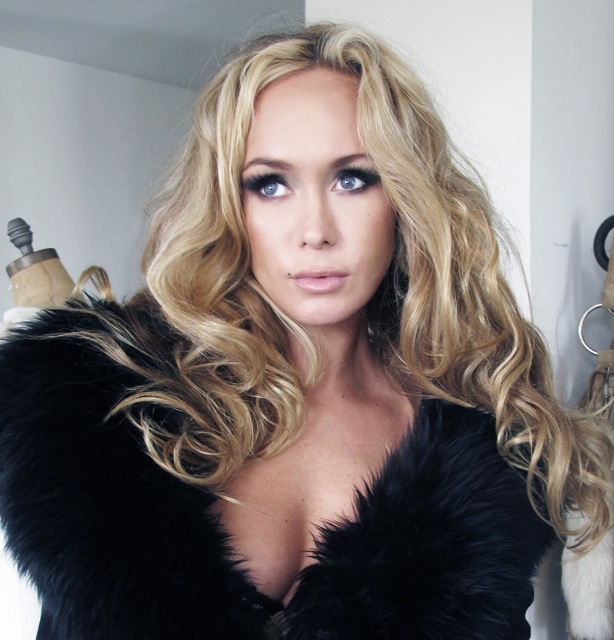 Glam makeup and tousled hair by Kat Lieberkind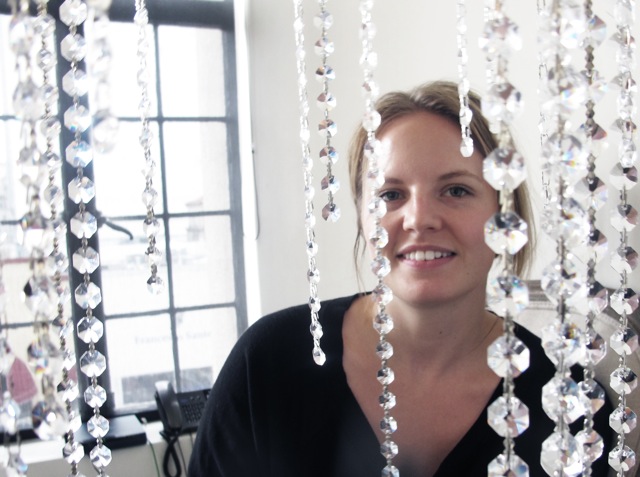 MUA Kat Lieberkind
Taking a peak in my old book for the shoot. I wanted to use the new book for this shoot, but we are still discussing the cover, so that was not an option. Either way, I had an interesting discussion with another writer while in NYC last week. She feels like me; we never look back on our old work. Once a project is done, we move on. So this is probably the first time I read some of it. I feel the same about movies that I've been in. Is that weird..? Idk – I guess we are all different.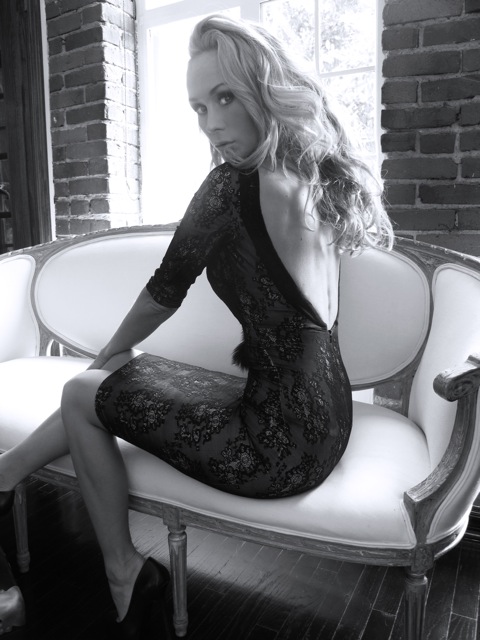 In love with this black lace dress. It is so tight, yet elegant it makes me feel like Jessica Rabbit.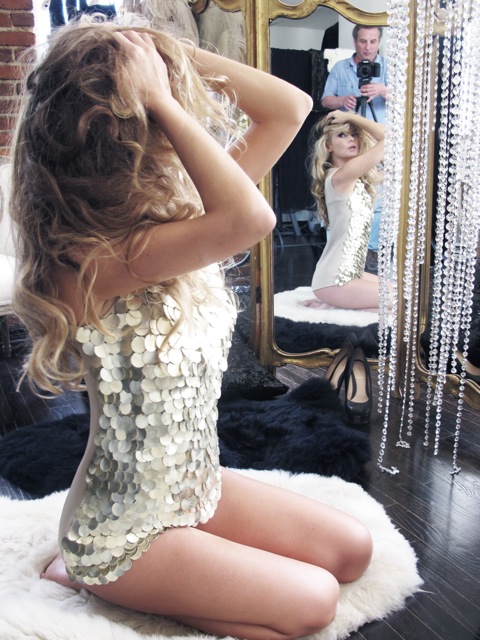 Jonathan Wareham doing his thing…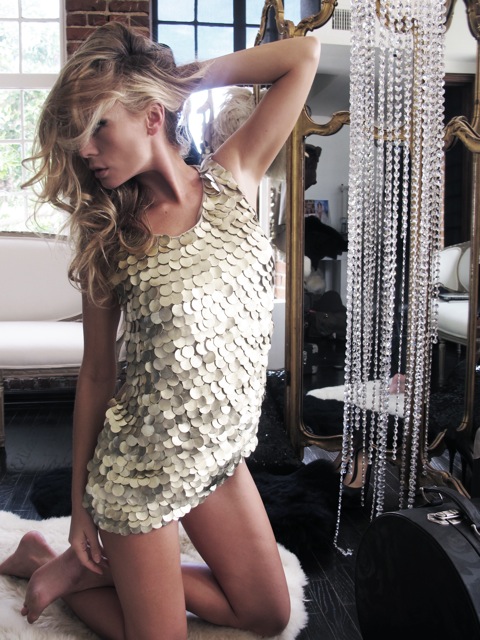 me doing my thing…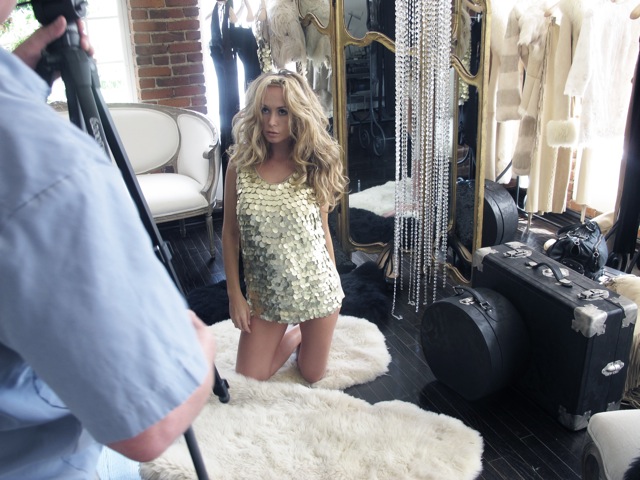 Oh nothing: just lolling around in an ultra short, gold leather sequin dress…
---